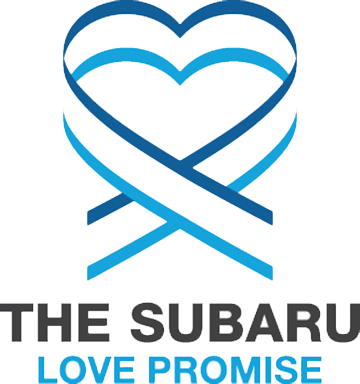 What is the Subaru Love Promise?
Subaru and our retailers believe in making the world a better place and the Subaru Love Promise is our vision of respecting all people. This is our commitment to show love and respect to our customers and to work to make a positive impact in the world.
How is Kenny Ross Subaru dedicated locally to the Love Promise?
Kenny Ross Subaru is highly committed to the Subaru Love Promise. Locally we support Cross Your Paws annimal rescue, Meals on Wheels, Westmoreland Regional Trail Corporation, Arnold Palmer Oncology Center, and Norwin Elementary School. The Subaru Love Promise is all about giving back. We support these charities and causes financially and our employees volunteer their time to directly support and connect Kenny Ross Subaru with our local community.
Westmoreland Regional Trail Corporation
Arnold Palmer Oncology Center
Love Promise Stories from Kenny Ross Subaru
Subaru and Kenny Ross Subaru believe in making a positive impact on the communities in which we live and work. We uphold that belief through our Love Promise Community Commitment. Every month, we select inspiring stories from customers and partners from around our area who strive to support our collective commitment and feature them here
Kenny Ross Cares about Kids at Christmas! - kelly D
The McKeesport Agape Center collects and delivers food to neighbors in need. Often times those who need food the most lack access to traditional food banks because they do not own cars so they can't get to them. We are a 100% volunteer non-profit who focuses on fighting hunger. We began our work at the beginning of Covid 19 when even neighbors with cars became shut in due to health concerns with the virus. We deliver food to hundreds of families locally per week. This Christmas the McKeesport Agape Center is providing Christmas to 424 families. We are calling it "The BIG M.A.C. Christmas." Thank you to Kenny Ross Subaru for providing gift bags and wrapping paper for us this holiday season! We are very thankful for your giving spirit. Kelly Doyle, Executive Director The McKeesport Agape Center.
---
Saving Jeffery! - Courtney N
Jeffery is a 2 year old border collie that was brought in from Kentucky with an unknown past. He was brought in on transport and went direct to his adopter. His adopter was in love with him before she even met him. Unfortunately, shortly after arriving Jeffery collapsed on a walk and had to be rushed to the emergency vet. After a quick exam Jeffery was rushed to a specialist emergency vet where he had to stay overnight and was given an MRI in the morning. It was discovered that Jeffery had a spinal stroke. This could have been due to previous trauma to the spine that left a fragment floating around. He had lost the ability to walk and go to the bathroom on his own. Luckily, his adopter was dedicated and stuck through this tough time with Jeffery. She had only known this dog for a short 24 hours but did not waiver for a second at the challenge of supporting him through this and getting him back to walking and relieving himself. As a rescue a vet bill this large can be very daunting but with the support of Subaru, we didn't have to think twice about doing everything we could to save this boy and give him his happily ever after. After seeking another specialist and a few weeks on in-home care Jeffery is making great progress and has been wagging his tail and happy to see his Mom throughout the whole process. Jeffery could not have found a better forever home! Within the next few weeks, he is expected to make a full recovery!
---
Kenny Ross cleans up Youghiogheny Bike Trail - Carley P
The Kenny Ross Subaru Service team spent last Saturday afternoon cleaning up trash along the Youghiogheny Bike Trail. The 150-mile trail, part of the 333-mile Great Allegheny Passage, is maintained and promoted exclusively by volunteers belonging to a Trail Council or Chapter of the Regional Trail Corporation. With united effort, volunteers are responsible for keeping the trails in operable condition for runners, walkers and most notably cyclists. During the Kenny Ross cleanup, an estimated 200 pounds of trash was collected, from cans and bottles to furniture and clothing. An environmentally friendly activity, the afternoon also increased safety along the trail. Team members assisted with cleaning rock debris on the trail right of way, a product of recent heavy rains. Thanks to the efforts of the Kenny Ross Subaru Service team, and our youngest cleanup supervisor Ben, the Youghiogheny Bike Trail is clear of trash and safe for enjoyment for seasons to come!
---