The 2021 Subaru Love Promise Community Commitment Award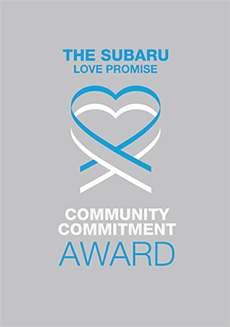 We've been nationally recognized for our dedication to our community and the Subaru Love Promise.
We're honored to receive the 2021 Subaru Love Promise Community Commitment Award. This award nationally recognizes Subaru retailers who are making the world a better place while demonstrating an outstanding commitment to supporting passions and causes in local communities. These efforts are focused in important areas such as the environment, community, health, education, and pets.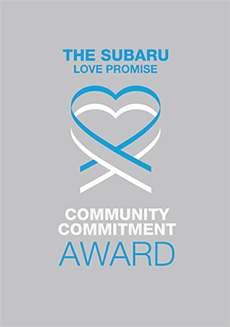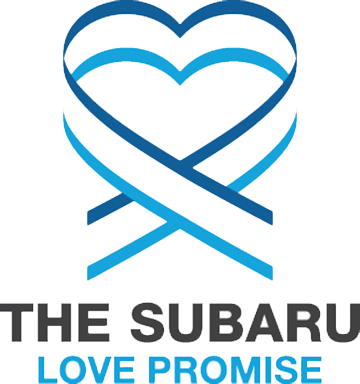 What is the Subaru Love Promise?
Subaru and our retailers believe in making the world a better place and the Subaru Love Promise is our vision of respecting all people. This is our commitment to show love and respect to our customers and to work to make a positive impact in the world.
How is Kenny Ross Subaru dedicated locally to the Love Promise?
Kenny Ross Subaru is highly committed to the Subaru Love Promise. Locally we support Cross Your Paws Rescue, Norwin Area Meals on Wheels, Westmoreland Regional Trail Corporation, the Arnold Palmer Oncology Center, and several local school districts. With an emphasis on going beyond financial support, Kenny Ross is committed to active involvement with each of these organizations. We continue to delivery hot meals to our elderly community, find homes for loving canines, cleanup the environment along our rivers' trails and so much more. Our team pledges to be more than an automotive dealership in the new year, we pledge to be part of our community through The Subaru Love Promise.
Westmoreland Regional Trail Corporation
Norwin School District, Jeanette School District
Norwin Area Meals on Wheels, PA State Police Shop With A Cop, Special Olympics of Southwestern Pennsylvania
Arnold Palmer Oncology Center
Love Promise Stories from Kenny Ross Subaru
Subaru and Kenny Ross Subaru believe in making a positive impact on the communities in which we live and work. We uphold that belief through our Love Promise Community Commitment. Every month, we select inspiring stories from customers and partners from around our area who strive to support our collective commitment and feature them here
Toys for Tots fills the Showroom - Doug H
The team at Kenny Ross Subaru sourced more than 90 new, unwrapped toy donations for the 2021 Westmoreland County Toys for Tots collection. The campaign provides Christmas toy donations for qualifying children age newborn - 12. The company provided a monetary match for all funds raised, helping to double the donation!
---
Santa Paws visits Kenny Ross Subaru - Carley P
Kenny Ross Subaru, alongside with Cross Your Paws Rescue, recently hosted an afternoon with Santa Paws. Customers and employees were encouraged to bring their four (and two!) legged friends to the showroom for a photo op with Santa Paws. Participants were given a polaroid photo and a holiday frame ornament.
---
ThanksGIFTING with Norwin Area Meals on Wheels - Joyce M
In continuance of Kenny Ross tradition, Kenny Ross Subaru employees were offered a gift from the company in celebration of Thanksgiving. From turkeys to gift cards, the company works to ensure every employee has an enjoyable holiday (and a full tummy!) This year, however, was a bit different. For 2021, employees were offered the choice of a holiday gift card or the chance to make a difference. If elected, an employee could donate the value of their gift card to Norwin Area Meals on Wheels and have the amount matched by the company. With outpouring support and kind hearts, Kenny Ross Subaru employees were joined by employees at neighboring locations to present Norwin Area Meals on Wheels with a $3450 holiday donation. The gift was presenting to the organization at their annual holiday luncheon and was met with grateful hearts and joyful tears.
---
Make A Dog's Day 2021 - Carley P
Kenny Ross Subaru held a donation drive for Cross Your Paws Rescue on October 22, 2021 in support of National Make A Dog's Day. They collected hundreds of dollars of supplies for fostering families and also raised more than $500 for the rescue, all while advocating for shelter and rescue adoptions. Donors were provided with a commemorative tshirt. The dealership's efforts continue to support the mission of Cross Your Paws Rescue in finding homes for all canines. #MakeADogsDay
---
Kenny Ross Fuels Poker Run Participants- McKayla G - McKayla G
This past Monday, September 6th, was the West Newton Trails Labor Day Poker Run! My co – worker, Serena Martinez and I took upon the opportunity to volunteer on behalf of Kenny Ross and show our support to all those who participated. We went prepared with snacks and water to hand out whenever the participants finished the event, it was a non-competitive 12-mile bike ride, 20-mile bike ride, or the optional 4-mile walk, jog, or wheelchair option. The objective is to go at your own pace and collect playing cards at each check point along the trail, at the end of each event, the poker cards were tallied and the person with the best hand in each category won a prize! It was such a fun experience participating and seeing so many familiar faces thought the day, from Subaru customers, to fellow trail volunteers. It's always a pleasure to get to work with Keith and his team on the trail!
---
Newest Gold Corporate Sponsor Lends Helping Hands - Keith F
Last year the Westmoreland Yough Trail Chapter of the Great Allegheny Passage lost a gold corporate sponsor. The chapter also lost all its fund raisers due to the pandemic. This was at a time when the trail probably had its greatest number of users. Despite the loss of funds, there was still about twelve miles of trail to maintain which included purchasing new equipment, maintaining and fueling the equipment, and finding new replacement workers. Some area chapters may have more populated and affluent communities to help them, but our chapter will take our dedicated trail members and fantastic corporate sponsors any day of the week. For example, Kenny Ross Subaru became our new corporate sponsor and their financial contribution was more than welcomed. They also had their employees and family members spend a day last fall and this spring working on the trail. Kenny Ross also participated in our trail appreciation day by having employees hand out bottled water to trail users. But it doesn't end there. Kenny Ross Subaru intends to continue with their financial help, participate in our fund raising activities, and send work parties to help with trail maintenance. With the continued support of Kenny Ross Subaru, the Westmoreland Yough Trail Chapter of the Great Allegheny Passage will continue to be a safe, secure, and family friendly place to enjoy nature when walking and riding.
---
Support to Norwin Area Meals on Wheels - Joyce M
Kenny Ross Subaru dealership and their employees have provided assistance in our time of need. Before we received their help we were struggling to meet our goal of maintaining a $5.00 charge for our meals. Thanks to their financial support through the Share the Love campaign, Norwin Area Meals on Wheels has, over the past two years, been able to maintain the cost that we charge our meal recipients. Effective July 2021 we are now able to reduce this charge by 20%, resulting in a savings of up to $20.00 per month to those who receive meals daily. In addition to their financial support, Kenny Ross Subaru employees regularly volunteer delivering meals with a friendly smile and conversation to our recipients who often have no other visitors. Our partnership with Kenny Ross Subaru has benefited not only our organization but also the Norwin community. We are truly grateful for their continuing support.
---
Shop with a Cop - Stephen L
I was blessed to be contacted by Carly Painter at our local Kenny Ross Subaru dealership. She notified me that Kenny Ross is dedicated to helping out locally and inquired about our charity. She later told me that Kenny Ross would be willing to assist law enforcement take children of unfortunate circumstances shopping. Carly, the owner and other employees came to the store and not only did they help officers take children shopping, but they picked up the ENTIRE tab that day which was well over $10,000! That was 3 Christmases ago. It was truly a Christmas miracle for all of us!!! To this day we have continued with that partnership. I am impressed with the Kenny Ross Staff at how gracious they are with their time, how generous with their donations, and how dedicated they are to giving locally. Hundreds of children were able to have a better Christmas because of them, and I look forward to working with them in the future to provide a better Christmas for hundreds more!
---
Kenny Ross Teams Up to Clean Up the Bike Trail - Carley P
Kenny Ross Subaru team members joined forces with supporters of the Great Allegheny Passage Bike Trail to remove trash and debris from the West Newton area of the trail. This was the first trail cleanup of the 2021 season, with dealership staff, family and friends collecting more than 75 pounds of trash.
---
Bataan Memorial March Donation - Shaylie C
Each year, the Junior ROTC Unit at my high school hosts a Bataan Memorial March, an event which raises money for a veteran-centered charity while simultaneously memorializing those who walked in the Bataan Death March in 1942. This year, the charity we are donating to is called Mission 22, which focuses primarily on veteran mental health. For the second year in a row, the Subaru dealership close to our school has donated $300 to our cause. As the head cadet assigned to this event and with family in the service, I know how impactful and important any amount of money can be towards a cause such as this. Having local support for our event is a great thing, and is beyond appreciated every year.
---